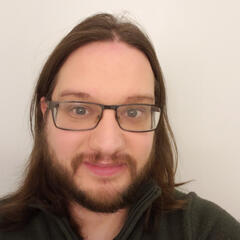 Nathan Comstock
Hello! My name is Nathan, and I'm an audio drama creator, playwright, poet and musician based in Boston, MA. Check out some of my projects below.
Work
Here are some of the things I've worked on. More coming soon!
About
I've been writing my whole life. For a while I had some success as a performance poet, culminating in my representing Lowell, MA in the National Poetry Slam in 2013. It was through poetry that I met Austin Hendricks and Michael F. Gill and started the journey that would lead to Solutions to Problems, my first audio drama project. That was six years ago. Since then I've produced another entire show, an award-winning urban fantasy called Electromancy, as well as acted in, written for, and directed countless others. I even won an Audioverse award (well, part of one) for directing an episode of Hubris.In 2018 I also started writing short science fiction plays with the Catalyze Playwriting Collective, which is connected to Central Square Theater. Unfortunately the group disbanded during the COVID lockdown.I also play the mandolin and sing, and I would be happy to be booked for that, either alone or with my brother, with whom I sometimes perform under the name Pirate Not Included.My specialties as a writer are thorough worldbuilding, bizarre humor, and likable, memorable characters. I also love bringing other people's work to life as a director or actor, and I'm just dipping my toes into the world of sound design.
Contact
If you want to collaborate on a podcast or another project, I'd love to hear from you. Or if you're looking to hire an audio fiction writer with a quirky style and a specialty in Sci-Fi and fantasy, drop me a line! And check out my podchaser profile for more podcasts I've been involved with.